Recently, I had the good fortune to host my firm's sixty-fourth Idea Dinner on the challenges and opportunities facing the automation industry. Part of ff Venture Capital's mission is partnering with corporates to bolster our portfolio's reach and contribute to the broader innovation ecosystem. In this spirit, I brought together fifteen leaders from manufacturing, real estate, construction, defense, and the wider mechatronic ecosystem. As we ate a steak dinner, our discussion became animated with each participant sharing their experiences on hiring, retaining, and attracting quality talent in the age of Gen-Z.
My good friend, dinner companion, and futurist, Nikki Greenberg shared five insights about this new generation of employees:
Gen-Z wants to work on cool sexy projects;
Gen-Z see value in their inexperience and naivety;
They're not afraid to experiment and fail;
They expect to have a voice in the room;
Low-value grunt work is unattractive to them.
According to Greenberg, by 2030 Millennials and Gen-Z's will make up about three-quarters of America's workforce. She cleverly cautions us X'ers that this population is not only the largest global demographic but also the first generation to have never known a world without the Internet or mobile phones. In Fred Wilson speak: we are the digital immigrants, while these younger minds are the natives. While the world is abuzz with ChatGPT and big tech layoffs, startups are still on the hunt for top hires.
According to The Robot Report, December 2022 saw a bump in private financing of robotic innovations over 2021 investments. This spike exceeded $1.14 billion over 55 deals ranging from investments in new sensor technologies to full-stack autonomy solutions. For example, European autonomous trucking startup, Enride, raised $500 million in December, up from $95 million two years earlier. This trend, which is counter to the global tech sell-off, will be a boon to newly laid-off electrical, mechanical, and software engineers. At the same time, it will put pressure on training a new crop of roboticists to fill the void of a growing list of open positions as more robot companies scale.
As an adjunct professor, I'm fortunate to be able to engage young minds in entrepreneurship. While many universities, including mine, have expanded their innovation labs for startups, few have built targeted programs for training the next generation of robotic founders. Tucked in the picturesque mountains of New Hampshire is Plymouth State University (PSU), home of the newest robot degree programs in the United States. Last fall, I sat down with its president, Dr. Donald Birx, to hear his vision for training Gen-Z roboticists.
"About seven years ago we reorganized the whole University," explains the administrator of 4,000 undergraduate and 1,000 graduate students. "We changed it from being a standard university that has colleges and departments to seven clusters." shared Dr. Brix. He elaborated further that the switch to a cluster-based program would enable greater experimentation, discovery, innovation, and entrepreneurship. He continued, "And then we have clusters that focus on key areas. One of those clusters is the Arts & Technologies. The focus in there is, how do you bring together the art community and the technologists." He hinted further that his overall mission is to create new technologies, which led him to build a unique robotics cluster. This bold vision was based upon New Hampshire's leading role in robotic high school competitions. In fact, the FIRST Governor Cup is hosted each year at the University. "We started getting more and more into the robotic space. So we decided here is a place where there's no program and asked how could one build a four-year program." He further shared his journey that started four years ago with architecting the program to this past year receiving a million-dollar grant "to outfit the laboratory" and start engaging students with hands-on training.
"Plymouth State University has always been a hub of innovation and technology for students, and I'm thrilled to have helped secure $1 million to continue that excellence. This award will support the construction of a cutting-edge robotics lab to provide hands-on technical learning for students," declared US Senator Cynthia Jeanne Shaheen. The grant will enable a 4,500 sq. ft. facility that will feature some of the best equipment in the IoT sector, including resources for additive manufacturing, 3D printing, laser cutting, PCB circuit-board design, CnC workstations, ROS Visualization, Gazebo simulators, and an array of FANUC's collaborative robots. This will enable PSU's robotics bachelor's degree program to offer courses in electronics, mechanics, microcontrollers, manufacturing technologies, and programming. "While most robotics programs focus on teaching students how to build or operate machines, through PSU's Cluster Learning Model, robotics students will have opportunities to work in teams on real-world projects in collaboration with businesses, non-profit organizations, and other outside entities," boasts the April press release.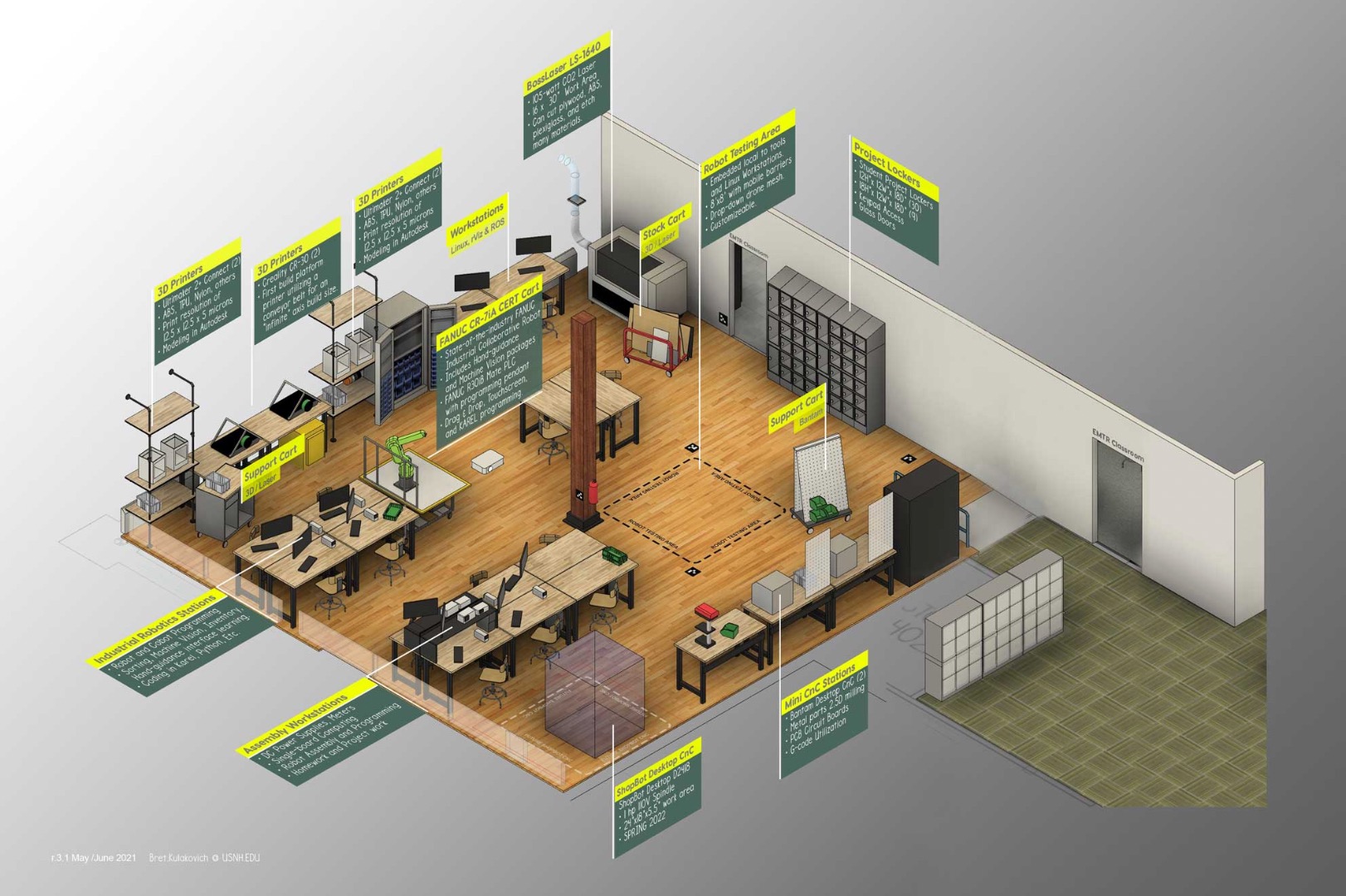 "We accepted a first class. It's just a pilot with twelve students in it," shared Dr. Brix. The following year he hopes to double registration so it can grow proportionately as they build out new classes. The mix of students reflects the unique cluster model of the university. "One of the reasons we developed clusters, these seven clusters is so there would be lots of cross-talk between all these communities. So when I talk about a cluster. It means that these are not departments. These are not colleges. These are just groups of individuals that get together and that work across many disciplines." In asking about motivating Gen Z students to follow the rigor that is required for robotics. Dr. Brix suggested that his cluster model is probably best suited for the new generation. "We take a variety of students from different disciplines, but build it in a team-based environment so they can help each other. So the whole construction of clusters is around this idea of bringing disciplines together." He further explained that students of humanities and the arts help balance mathematical and science-minded peers. "We think that's the most creative space for our program, where you're really trying real ideas and concepts with students," exclaimed Dr. Brix. His sage wisdom echoed in my head last week, as my dinner guests debated revolutionizing collegiate education to meet the unique needs of this Chat-GPT generation.
---