Ordermark has become one of the fastest-growing online ordering management platforms, helping restaurants, whether small and local or large chains – manage incoming orders from all the different online ordering platforms into a single easy-to-manage dashboard. The company also provides the added-value of consulting for partner restaurants to adjust their delivery menu offerings to preserve the taste and freshness of the food through transit. Ordermark also operates Nextbite, a virtual kitchen marketplace enabling turnkey, delivery-only restaurant brands to launch with key infrastructure in place.
LA TechWatch caught up with CEO and Cofounder Alex Canter to learn more about Ordermark's evolution from a solution originally conceived to meet the needs of his family's deli into a robust nationwide restaurant management solution powering thousands of restaurants, the company's experience supporting the restaurant industry through the pandemic, and the company's latest funding round, which brings the total funding raised to $150.6M.
Who were your investors and how much did you raise?
$120M led by Softbank Vision Fund 2 and joined by returning investor Act One Ventures.
Tell us about the product or service that Ordermark offers.
Ordermark is one of the fastest-growing restaurant technology service providers in the mobile online ordering space. Ordermark helps restaurants increase efficiency and grow profits by aggregating mobile orders across all of the major online-ordering services into a single dashboard and printer. Additionally, Ordermark operates Nextbite, one of the early pioneers in the virtual restaurant space. Nextbite's portfolio of virtual-only restaurant brands generates incremental orders for under-utilized kitchens.
What inspired the start of Ordermark?
The twin forces of the 2008 recession and millennials wanting convenience on-demand created a well-documented decline in foot traffic to restaurants. I am the fourth-generation proprietor of my family's restaurant, Canter's Deli, in Los Angeles, and our restaurant was impacted as well. I started experimenting with new ways to reach customers – food trucks, pop-ups, delivery.  Delivery services gave us an immediate jump in incremental revenue, but I realized that we needed to be on every platform, big or small, national or local – otherwise, we wouldn't exist to those customers.  But managing all of those platforms was confusing and frustrating: we had 9 tablets, 2 laptops, and a fax machine. My staff refused to use them. So in 2017, we created the technology that would become Ordermark, to help simplify all that complexity while still maximizing revenue from delivery.
I wanted the delivery experience to match the restaurant experience as closely as possible; so I would drive menu items around Los Angeles, checking the temperature and texture of the food at regular intervals. I realized that we would need to change our packaging, and even tweak our delivery menus, to offer only items that would arrive at a customer's home or office in a way that matched their expectations from the restaurant. I changed the packaging on our potato pancakes, for example.
As a restauranteur, I know that the printer in the kitchen is the heart of restaurant operations. So Ordermark combines every available delivery platform in one simple interface and sends those orders directly to a kitchen printer. We further provide bespoke consulting services for each restaurant, helping them to adjust their delivery menu in the same way I did for Canter's so that the food will arrive exactly as they expect it.
In short, we created Ordermark to help my family's restaurant, Canter's Deli in Los Angeles, adapt and thrive in the mobile delivery era. It was tested, refined, and built-in a restaurant. We then realized that as a company, we could help other restaurants experiencing the same challenges.
How is Ordermark different?
Ordermark was created by restaurant people, trialed in a restaurant kitchen, with a true understanding of how restaurants actually work. Ordermark was truly "born in the kitchen"
What's your business model?
The rise of ghost kitchens and virtual restaurants, often referred to as the 3rd wave of food delivery, have paved the way for a larger addressable market for online food delivery. Virtual brands empower independent restaurants to increase their revenue and profitability by offering virtual-only menus through online delivery channels. Since the start of COVID-19, Nextbite has launched 15 brands and has added over 1,000 delivery-only restaurants nationwide.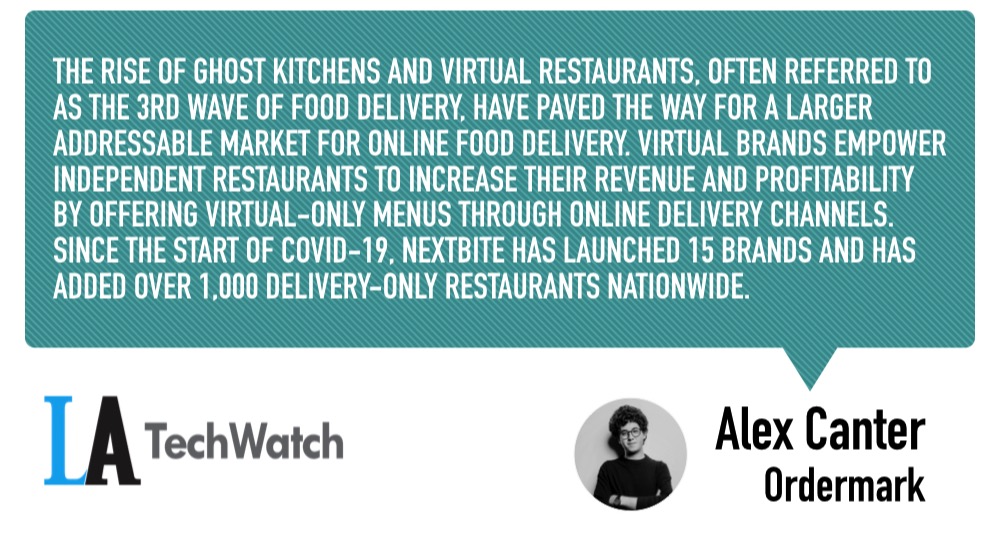 How has COVID-19 impacted the business?
Since we help restaurants adopt online ordering, our business has generally grown stronger as a result of the pandemic. Of course, tens of thousands of restaurants have gone out of business and we've lost a handful of customers, but overall, we're doing something that helps restaurants become more competitive.
What was the funding process like?
We were fortunate to have strong interest from a range of top tier investors. Although any fundraising process is time-consuming, working with Softbank has been a very positive experience.
What are the biggest challenges that you faced while raising capital?
Every investment group has a different worldview and investment thesis. We took many meetings with investors that are content to build something small so I would say that our biggest challenge was focusing our valuable time speaking with investors whose ambition aligned with ours.
Every investment group has a different worldview and investment thesis. We took many meetings with investors that are content to build something small so I would say that our biggest challenge was focusing our valuable time speaking with investors whose ambition aligned with ours.
What factors about your business led your investors to write the check?
Mainly the fact that we have been executing against a model that is working and helping restaurants for some time. Softbank also has a long-term investment thesis around the future of restaurants, and we played into that vision.
What are the milestones you plan to achieve in the next six months?
To help as many restaurants as possible thrive throughout the pandemic. Consumers still need food choices and connecting them with innovative restaurants is what we do. To achieve this, we will be scaling our team and diversifying our expertise.
What advice can you offer companies in Los Angeles that do not have a fresh injection of capital in the bank?
Focus on execution and demonstrating viability by generating revenue. Traction is everything!
Where do you see the company going now over the near term?
We will be growing fast and focusing on helping as many restaurants as possible.
What's your favorite outdoor activity in LA?
Hiking!
---
You are seconds away from signing up for the hottest list in Los Angeles Tech! Join the millions and keep up with the stories shaping entrepreneurship. Sign up today
---