When discussing the future of work, the adoption of AI and new technologies in the workplace are often mentioned, but less discussed is the rise of freelancing. Freelancing brings newfound freedom and flexibility to work but it's still a business and freelancers face many challenges when it comes to getting paid.  Any issues with payment lead to larger repercussions for the freelancer and economy such as overdraft fees, late bill payments, and declining credit scores. Willa is the fintech app that helps freelancers and influencers get paid on time through its Willa Pay app. Once freelancers have completed a job, they input the details such as time, rate, and client organization/business and Willa Pay seamlessly generates the invoice and handles the payment process. Currently invitation only and in beta mode; Willa currently has 10K users on the platform, all of which are influencers with 100K+ followings on social.  Willa plans to open up and onboard more freelancers and creators in Q3.
LA TechWatch caught up with CEO and Cofounder Kristofer Sommestad to learn more about how Willa addresses the payment pain point that freelancers face, the company's traction, and recent funding round.
Who were your investors and how much did you raise?
We closed a $3M Seed round, led by EQT Ventures, joined by Mattias Ljungman (Moonfire founder and formerly cofounder of Atomico), Nordic Makers, Michael Hansen, and Johan Lorenzen. We're of course thrilled by being backed by investors like these, who bring a lot to the table beyond funding.
Tell us about the product or service that Willa offers.
The payment process between freelancers and corporations is completely broken. It's built for the old world, by people of the old world. Both freelancers and corporations are suffering a lot from this. At least half of freelancers experience problems getting paid, while a third of payments are late. The result? Credit scores decline.
Willa Pay solves the problem by re-engineering the payment process. We're creating it from scratch with the new freelance economy in mind. And we're starting with freelancers' biggest problem; getting paid, on time, every time.
As a freelancer, using the Willa Pay app is a faster, simpler, and better way of requesting payment for your work.
What inspired the start of Willa?
Our team has worked with 10K+ creative freelancers and influencers the past few years and has seen all of their struggles first hand.
It's really not a level playing field for freelancers, which is incredibly frustrating when you know that we're moving fast into a new economy. What most people don't seem to get is that freelancing will soon be the default, not the alternative.
When we found a winning recipe on how to best help both freelancers and corporations, by acting as a middle-man, we realized that we could have a massive impact by launching a new venture. And so, Willa was born.
How is Willa different?
Financial services are built by massive companies like PayPal and Intuit. And there are loads of startups building shiny tools or launching yet-another challenger bank.
But none of them are solving the core problem for freelancers; getting paid, on time, every time. That's what we do at Willa. We're focusing on solving the biggest problem, for the people that suffer the most.
Willa is offering a faster, better, and simpler way of getting paid.
Do many freelancers use multiple apps that help them get paid?
Our users prefer Willa over PayPal, Quickbooks, and other invoicing services.
There's been a number of tools launched the past few years to help out with the invoicing process, but more than half of freelancers still suffer from payment problems. 1 out of 3 payments are still late, so these tools aren't solving the real problem.
Even though new tools are launched every year, they're not really breaking new ground, surprisingly complex, and not built with the creators in mind.
We've been spending the last 20 years creating stunning user experiences: creating games, music streaming services, and other products where the user experience is key.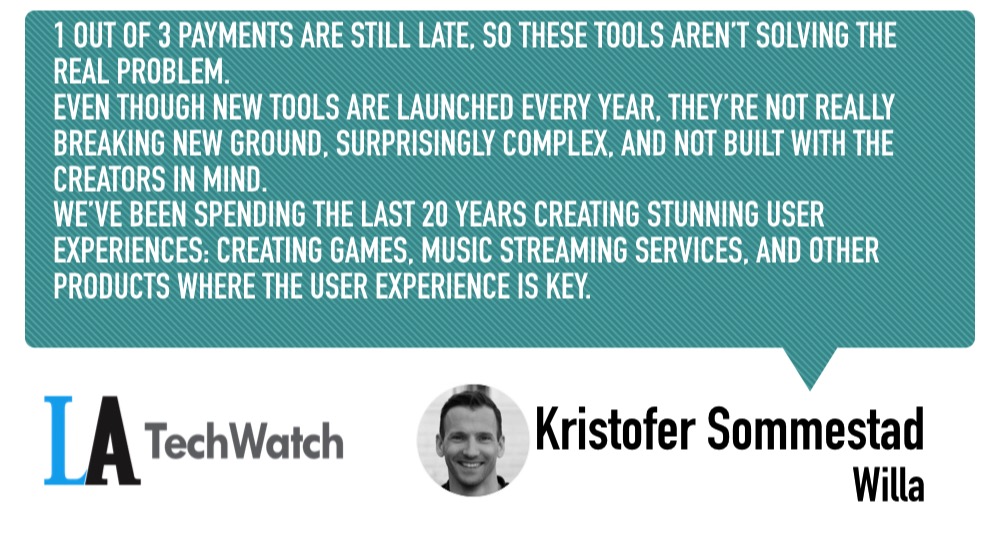 What market is Willa targeting and how big is it?
In 2019, ​57M Americans​ were freelancing, contributing nearly $1T to the economy (almost 5% of GDP), and ​one in every two​ freelancers has had trouble collecting payments.
We've set out to design a payment process specifically for the freelance and influencer communities, removing the complications associated with invoicing and ensuring people get paid for the work they are doing.
What's your business model?
We make money when our users make money. More importantly, we make money when we solve their biggest pain; getting paid on time. Willa earns a fee from transactions through our platform.
What was the funding process like?
We were fortunate to meet a lot of good investors in a short period of time, and the round got oversubscribed very quickly. It was hard to say no to more funding, but I'm really excited about the investors that have come on board; they bring a lot more than just money to the table.
What are the biggest challenges that you faced while raising capital?
Raising capital can always be a challenge and requires you, as a founder, to be very resilient, determined, and passionate about the market and the problem.
This time, there was also a raging pandemic in the mix, which of course made it more uncertain than in more normal circumstances, but it also makes me even more proud of our team and excited about the opportunity.
What factors about your business led your investors to write the check?
It was clear they felt we had a very strong founder/market fit, as well as having found an overlooked, massive opportunity. We're coming from a different perspective than many other fintech founders and have an incredibly talented and experienced team.
What are the milestones you plan to achieve in the next six months?
Willa Pay is currently in beta and invitation-only, but we're starting to roll it out to more and more users. We're working really hard to quickly get it out to as many creators as possible!
We're also seeing really strong growth in our Willa Community, where we've already got thousands of active members, which I'm expecting to at least 2x the coming months.
We're also seeing really strong growth in our Willa Community, where we've already got thousands of active members, which I'm expecting to at least 2x the coming months.
What advice can you offer companies in Los Angeles that do not have a fresh injection of capital in the bank?
Given the state of the economy, I'd give the same advice as most people: hold on to your money and extend your runway. But at the same time, the VC market isn't closed. Even though it was rough in March/April, a lot of VCs are pretty much back to "business as usual" and still have a lot of funds that they want to deploy!
And companies that manage to weather out the storm will be in the driver's seat afterward.
Where do you see the company going now over the near term?
We're still an early-stage company and have just closed the Seed round, so now it's all about proving product/market fit. We need to keep exceeding the expectations of our users.
And we'll obviously keep growing the team, working really hard to make it a diverse, distributed, remote and incredibly talented one.
What is your favorite LA bar, when you need to kick back and relax?
Roosterfish in Venice!
---
You are seconds away from signing up for the hottest list in Los Angeles Tech! Join the millions and keep up with the stories shaping entrepreneurship. Sign up today
---